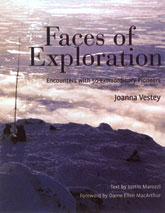 A project in partnership with award-winning photographer Jo Vestey, Faces of Exploration is a portrait-led collection of the fifty greatest and most prominent explorers of the twentieth century. It features anthropologists and ethnologists, cavers and climbers, balloonists, pilots, astronauts, polar specialists, desert explorers, sailors, geographers and zoologists. From Buzz Aldrin and Sir Edmund Hillary to Dame Ellen Macarthur and Jean-Michel Cousteau, these are some of the most remarkable men and women on the planet.
The desire to explore the unknown has been a driving force for mankind since the dawn of time. Early humans searched for the means to survive. Later, modern man searched for information about his environment and in the process mapped the world. Men and women climbed the highest mountains, traversed the most treacherous deserts, crossed the high seas, and scoured the depths of the oceans. They took to the skies and launched themselves, finally, into space. They collected fossils and meteorite samples, discovered cures for diseases, named parts of the earth, species of animals, plants and fish.
Faces of Exploration tells 50 gripping and inspirational stories, milestones of exploration and epic adventure. They include the first ascent of Mount Everest without oxygen; the solo crossing of Antarctica on skis; the fastest circumnavigation of the world by balloon; the mapping of the deep oceanic ridge of the mid-Atlantic and the first landing on the moon.
Many of these irrepressible explorers have no formal qualifications at all. Others have a fistful of PhDs. What unites them is a fierce determination to overcome every challenge,
an unshakeable belief in their own abilities, and the conviction to live life to the full. As Theodore Roosevelt once said, "Far better it is to dare mighty things even though chequered by failure, than to dwell in that perpetual twilight that knows not victory nor defeat."