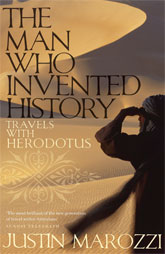 Justin Marozzi's latest book, published by John Murray, is The Man Who Invented History: Travels with Herodotus.
Herodotus is widely known as the Father of History, but he was much more than that. He was also the world's first travel writer, a pioneering geographer, anthropologist, explorer, moralist, investigative reporter, foreign correspondent and enlightened multiculturalist before the word even existed. He was at once learned professor and tabloid journalist, a man of great wit and wisdom with an unfailing eye for material to inform and amuse, to titillate, horrify and entertain.
The Histories, the world's first great prose epic, was his compulsively readable masterpiece. Tall stories of dog-headed men, gold-digging ants, flying snakes and strange sexual customs from foreign parts jostle for space within a mesmerising narrative of the Persian Wars, the tumultuous encounter from which Greece emerged triumphant in the early fifth century BC. This victory, which he recorded in breathtaking detail, was one of history's most important: it gave birth to Western civilisation.
Using the effervescent, humane and profoundly modern Herodotus as his guiding light, Justin takes the reader back to his world with eclectic travels to Greece, Turkey, Egypt and war-torn Iraq. The result is a sensational blend of travel and history in the spirit of the man who invented it.
The Man Who Invented History… confirms Marozzi as a writer of real distinction and charm… This is a book of remarkable substance and style, brimming with humanity, self-deprecating humour and the sort of sexual cameos – veiled girls fellating their boyfriends in Cairo car parks, sky-high prices for hymen-repair surgery in the same city – that were Herodotus' stock-in-trade. It is, in fact, the sort of thing that Herodotus himself might well have written.
[Sunday Telegraph]
Faithful to the spirit of The Histories and never less than entertaining, [Marozzi] writes with unbounded enthusiasm and refreshing vigour. The Man Who Invented History proves to be a tour de force of travel writing, unmarred by authorial conceit and enriched by delicious connections, the crispest descriptions and some memorable characterisation.
[Literary Review]
This is a delightful book, fit companion to the Father of History himself. Curiously, it follows hard on another of the same sort, Travels with Herodotus by the Polish journalist Ryszard.Kapuscinski. Read them both; you will be the better and wiser for doing so.
[The Scotsman]
The book is a fascinating read, because Mr Marozzi is a mixture of scholar, adventurer, foreign correspondent and page-turning storyteller… Herodotus himself would have approved…
[Country Life]
Compelling…Herodotus, the 5th-century BC historian, seems to be the text of choice for the cool male adventurer… Where Marozzi succeeds above all is in whetting the appetite, making us long to return to the master.
[Financial Times]
Those hoping for an engagingly intelligent travel yarn from the author of South From Barbary and Tamerlane will be enchanted by the author's best book to date.
[Bookdealer]
A spirited celebration of Herodotus as an early travel writer. More than anything it's a good excuse to return to his outlandish stories of war and the exotic sexual practices of forgotten cultures.
[Sunday Times]
Marozzi writes with great vigour and his own observations are always sharp.
[The Spectator]
[A] fascinating book… It is to Marozzi's immense credit that his storytelling is almost as good as his mentor's. Together they are marvellous.
[Sunday Herald]
He celebrates the wonders of the world with a life-grabbing energy that is never less than infectious': so Marozzi praises his hero but he might just as well have been describing himself… A very Herodotean book…entertaining, engaging and humane.
[Times Literary Supplement]
Erudite, entertaining…a fine piece of work that does its subject proud.
[Geographical]